After a few years of complacency, markets as of late have shown their alter-ego: volatility. The very nature of volatility is that (a) it eventually returns and (b) the more granular we view it—i.e. the closer we are to it—the more concerning it seems. The reverse is also true. As we view markets from a higher perspective over a longer time frame, volatility becomes much less scary.
Human nature leads us to view the short-term consequences of things. A view of the CBOE VIX (an index showing the market's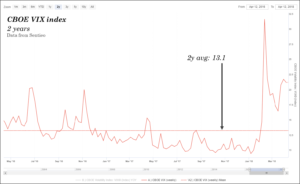 expectation of volatility over a 30-day period) over two years shows what seems to be an extreme divergence from the mean. However, over ten years the picture is much different. In fact, many would argue (myself included) that the recent uptick in volatility is a return to a healthier balance of fear/optimism.
In our Q3 letter (How Low Can It Go?), we pointed to the historically low level of the VIX index stating it was:
"…a symptom of three underlying causes: (1) the perception of growing global financial stability, (2) the prospect of domestic tax and regulatory reform, and (3) the continuation of what I would describe as complacent optimism… markets are largely priced as if all will be well over the next few years and investors continue to be indifferent to the potential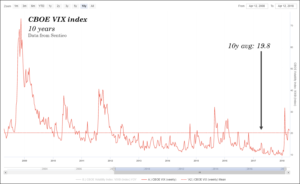 for geopolitical conflict, reductions in consumer spending, or problems with the Fed's unloading of its balance sheet."
Over the past few months, the geopolitical situation appears to have become less stable, tax reform was passed, and complacent optimism has come into question. Keep in mind, we were not predicting what would happen, but simply observing where prevailing thought seemed out-of-balance and how that might affect our investment decisions. The passing of tax reform led to a surge in stock prices—the S&P 500 was up 14.03% from October 1st to January 26th of this year, roughly 7.5% of which came from January 1st to the 26th.
The market now more closely resembles what many people thought we would see after Donald Trump was elected, with stocks boosted by the enactment of pro-business policies and a decrease in the regulatory burdens faced by U.S. companies. Unfortunately, there was also the potential for a lot of chaos and other controversy that would increase volatility. Does that sound like a pretty good summary of where things stand right now? Every day it seems like something new can pop up at any moment and that things can change in an instant. While horrible things happen much less frequently today than they did, say, a few hundred years ago, we must nevertheless remain prepared for the unpredictable because, where in the past it might have taken several months for a market to decline 10%, it now happens in days.
As things stand today we have clients positioned a little more defensively than a few months ago. It isn't because we are concerned about a massive correction. In fact, we feel that everything that is happening now is more reflective of a normal market. The bottom line is that equities got a little ahead of themselves earlier this year, and now we have seen things pull back. There are more wild swings from day to day (even intra-day sometimes). We expect that this will continue over the next few months. We believe the key to handling volatility is maintaining an investment strategy that prevents clients from taking more risk than they need, focuses on a diverse basket of securities, and has enough fixed income/cash to cover your income needs if the market does get into a prolong decline (or, for clients that are more aggressive, hedges their holdings using options). Things tend to move in a positive direction over time. The movie tends to end well. But any individual scene, standing alone and without the broader perspective, can seem dispiriting. We do not make investment decisions on 'snap shots.' That would be too easy. Provided we do not take uncalculated risks, avoid rash decisions, and keep our eye on the higher level, we believe we'll do very well over rolling five- to ten-year periods. That is what investing is all about, embracing patience and focusing on what matters.